BUILD YOUR OWN: 4-PACK RUB
Want to try out all of our meat rubs or double up on some of your favorite flavors? Our build your own meat rub 4-pack will surely satisfy your cravings. You can RUB1OUT every night when you have four delicious flavors to choose from. Whether you choose a beef rub, poultry rub, jerk rub, and pork rub, or you get all of the same flavor, these rubs will leave you satisfied.
Details:
Pack of four
Non-GMO
No Gluten
No MSG
All Natural
Add some spice to your kitchen and build your own 4-pack of meat rubs today!
FREE SHIPPING ON ORDERS $45 AND MORE!
Customer Reviews
Write a Review
Ask a Question
11/13/2020
Verona M.

US
Verona Mikkelson
Used product for ever. Great for beef and chicken.
Thank you, Verona! We appreciate your input. Enjoy!
10/18/2019
Paul H.

US
More Than JUST Rubs
Trying to make tasty healthy food when you're trying to lose weight is extremely hard. The best way to add flavor is to usually through butter, sauce, or some other high calorie item at your food to give it some added flavor. That's where Just Rubs is amazing. It's rare that simply adding a rub can provide the flavor that you can get with the Just Rubs product. The **** Rub has a very subtle heat with a sweet brown sugar texture that gives it an incredibly authentic Jamaican feel. The Chicken Rub has a uniquely Indian twang that feels almost like a curry. To call these "Just Rubs" is a misnomer. These are AWESOME Rubs. I strongly suggest you try it for yourself.
Well said, Paul! We appreciate your flavor analysis - it's spot on. Just Rubs = Just Right. With mad respect, Just Rubs
09/24/2019
Caleb S.

US
If you want Amazing Flavor
I purchased the 4 Pack so that I could try all the flavors. The rub is finely ground and will char. The char allows for the flavor to be locked in. The beef rub is great on burgers and steaks. When grilling tomahawk ribeyes with the beef rub everyone kept commenting on how great they smelled on the grill. The rub also tasted just as amazing as it smelled. This will be my go-to seasoning going forward.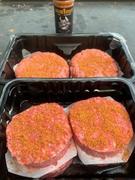 Thank you, Caleb! It sounds like you have experience on the grill. Nice work. Our Beef Rub formula was tweaked over years to maximize flavor for a variety of food, but, to your point, it also seals in the flavor from the food itself. And, importantly, the smell it provides - it just has to be experienced. Hats off to you, Caleb!